Author:

Nina Munteanu
Narrator:

Dawn Harvey
Series:

The Splintered Universe Trilogy, Book 3
Length:

8 hours 59 minutes
Publisher:

Iambik Audio Inc.
Genre:

Science Fiction
Hear the scintillating conclusion of the Splintered Universe trilogy.

In Metaverse, Rhea Hawke travels back to Earth, hoping to convince an eccentric mystic to help her defend humanity from an impending Vos attack – only to find herself trapped in a deception that promises to change her and her two worlds forever.


Nina Munteanu is a Canadian ecologist and novelist. Her novels include: Collision with Paradise; The Cypol; Angel of Chaos; Darwin's Paradox; The Splintered Universe Trilogy; and The Last Summoner. In addition to eight novels, she has authored award-winning short stories, articles and non-fiction books, which were reprinted and translated into several languages throughout the world. Recognition for her work includes the Midwest Book Review Reader's Choice Award, finalist for Foreword Magazine's Book of the Year Award, the SLF Fountain Award, and The Delta Optimist Reviewers Choice Award. Nina's latest non-fiction book—"Water Is…" a scientific study and personal journey as limnologist, mother, teacher and environmentalist—was picked by Margaret Atwood in the NY Times as her #1 choice in the 2016 'The Year in Reading'.
Nina is a member of SF Canada. Much of Nina's work is on the environment and sustainability, examining the role and evolution of humanity in the context of nature and technology. Her upcoming novel "A Diary in the Age of Water", a near-future dystopia that explores the socio-political intrigues of water shortage in Canada, will be released in 2019.
Nina regularly publishes reviews and essays in magazines such as The New York Review of Science Fiction and Strange Horizons. She has been staff or guest writer for several online and print magazines or newspapers including Amazing Stories, Clarion, Niverville Citizen, and CBC Canada Writes. Nina co-edits Europa SF, a European speculative magazine. She was assistant editor-in-chief of Imagikon, a Romanian speculative magazine, and currently edits for Grimoire Books, USA, and Future Fiction, Italy. She has also served as acquisition editor of several anthologies such as "Water" (Reality Skimming Press) and "My Canada" (IOWI). Nina was interviewed or an invited speaker on topics to do with science & climate change, eco-fiction, writing and publishing at: The Globe and Mail, CUIT Radio, Delta Optimist, the Editors' Association, Gazeta SF, Mississauga News, Impakter, Langley Times, THAT Channel, Observatorul, Planet S, Speculating Canada, Times Colonist, The Commentary, World Poetry Café, Wonderville, CanCon, and When Words Collide, among others. Nina was the science fiction writing Guest of Honour at Limestone Genre Expo in 2016.
Nina has taught writing since 2005 and currently lectures at George Brown College and the University of Toronto. She has been a writing coach and editor since 2005 and has worked with novice and established writers toward successful publication. Her books on writing "The Fiction Writer: Get Published, Write Now!" and "The Journal Writer" (Starfire) are used in universities worldwide. They were translated into Romanian and published by Editura Paralela 45.

Dawn is an actress, singer, voiceover artist, and writer. She has narrated just under 50 audiobooks and is the recipient of both Earphone and SOVAS Awards for her audiobook work. Dawn lives in Calgary, Alberta, Canada, holds both Bachelors and Masters of Law degrees, is the mother of three adult children and shares her life with Dani, the most perfect dog in the world!
Dawn has been performing for as long as she has been able to walk, talk and sing. Her first memory is of being 5 years old, waiting on top of a hill with her family for the fireworks to begin and entertaining the hill full of audience members by dancing and singing "We'll Sing in the Sunshine", a song that had been released by Gale Garnett only a week earlier.
A stage and film actress for decades, Dawn began her voiceover career over a dozen years ago. Dawn's voice has been described as rich, warm, smooth, soothing, calming, sultry, confident, and comforting. Specializing in narration, e-learning, animation and audiobooks, Dawn's years of acting training enable her to bring characters, their voices and their stories to life. Dawn's love of learning new accents and developing new characters results in the growth of her portfolio year over year. Dawn's equal love of learning in general (how many actresses do you know who hold a Masters of Law degree? It might be a sickness, really) has resulted in her acquiring extensive training in acting for film, stage and voiceover over the years and to this day. This, in addition to her years of classical singing, musical theater and dance training, combined with her love of play and fascination with the human psyche (her undergraduate training is a combination of theatre, psychology and oil and gas management), allow her to continually create authentic characters, unique to a project's requirements.

Interview with Detective Rhea Hawke, Galactic Guardian
Interview by Laura Dob of Galaxy News
Laura: Welcome to the studio, Rhea. We're so pleased that you could take time out of your busy schedule to talk to us.
Rhea: Thank you. Well, my boss told me I had to come and then cleared my schedule.
Laura: Well, that was nice of him.
Rhea: (hardly audible) Not really…
Laura: (clears throat). You're currently an enforcer for the Iota Hor-2 Precinct of the Galactic Guardians. Is Neon City where you live—when you're not out chasing the bad guys in your sentient ship, that is?
Rhea:

Yes. I live in the eastside in a flat with my tappin, Jasper. I moved there when I started working for the Galactic Guardians. I'm originally from Earth: Vancouver, Canada.
Laura: How does it feel to be the only human in an entirely Eosian Guardian force?
Rhea: Small. Their average height is seven and a half feet. I'm tall for a human female at 6 feet, but I'm still a midget compared to them. Humans generally are small in the galaxy. If you discount the Delenians, Rills and Creons—which most do anyway—we're pretty much the smallest sentient species in the galaxy.
Laura: (laughs uneasily) How did you become the only human Guardian Enforcer?
Rhea: Plain dumb luck, I guess…
Laura: (shuffles papers). You must be one of their youngest Enforcers at just twenty-three years old. Most are in their forties by the time they earn an Enforcer badge. With so much training involved how did you accomplish that feat?
Rhea: I started out young.
Laura: So, tell us about your sentient ship. It's different from the regulation Guardian ships, isn't it? Why did you choose it—
Rhea: I didn't choose Benny. But I'm very happy with him. Benny is a ray class ship, a hybrid of old organic, nano-technology that uses brainwaves and new technology that uses kappa particles collected through fuel scoops from gas giants. My ship was built by Tangent Shipping, owned and operated by Fauche ship-builders. As far as I'm concerned, the Fauche are the best ship-builders in the galaxy.
Laura: Tell us a little about the equipment you use in your work? Like that savory coat. You call it a Great Coat, don't you? Is it standard Galactic Guardian issue?
Rhea: The coat is intelligent, made with thixotropic material, which protects me, alerts me and provides some enhancing features that help me maneuver out of challenging situations.
Laura: The standard weapon of the Galactic Guardian is the pocket pistol. But you use something different; I hear that you designed your own non-regulated weapon. Is that it, holstered on your hip? I've heard it called a MEC…
Rhea: (pulls out the hand gun). MEC stands for Magnetic-Electro-Concussion pistol. It's a wave-generating weapon that's programmable to specific vibrations and wavelengths unique to the DNA of animate and inanimate things. I can program it to do different things to different things in one sweep. This essentially makes the MEC a discerning weapon with distinguishable endpoints from rendering someone unconscious to a swift kill.
Laura: As a Galactic Enforcer, you're known as a loner who drives a non-regulation ship and uses unconventional ways to complete your missions. Some have criticised your methods as unreliable, shoddy—even dangerous. One Galactic Enforcer told me that no one wants to work with you because—
Rhea: I didn't join the force to make friends. I became a Guardian to help make things right. I get the job done. There's no nice way of getting rid of scum, murderers, and terrorists. People have to decide if they want a safe galaxy or if they want to be politically correct in an unsafe one.
Laura: Does that include the Rill rebellion on Omicron 12 where you murdered over a hundred insurgent Rills with that very MEC you're holding?
Rhea: 'Talking without thinking is like shooting without aiming'—Old Chinese proverb… It was seventy-seven terrorists I killed.
Laura: (after tense pause in which interviewer notes that Rhea has not put away her MEC) Ok… Well… I heard a story from your mother—
Rhea: You spoke to my mother?
Laura: —that you wanted to be an artist when you were young…
Rhea: 'Dress the monkey in silk and it is still a monkey.' Argentinian proverb.
Laura: Eh… right… So, what's your favourite holiday place when you take time off?
Rhea: I don't take time off. Except for interviews my boss tells me I need to do, that is…
Laura: Eh… right… So, what's your favourite drink—or drug— and favourite place to get it?
Rhea:(finally smiling) Well, I am rather partial to Plock Nectar but my favourite drink is soyka and one of the best places to get it is right here in Neon City. It's a funky Italian-Scandi café on Elgin Street in The Hive, called The Muddy Pit.
Laura: Thank you, Rhea, for talking to us. I wish you well in your journeys.
Rhea: Thank you, Laura. You too.

Lexicon of "Splintered Universe"
soy•ka \ sói-kä \ n : a soy-based warm drink like coffee; stimulant
Spice \ spīs \ n : a mild psychoactive drug in common usage
Spo•ri•an \ spó-rē-ən \ n : a very tall, pear-shaped lanky greenish species with elongated head and leather-like skin, long limbs and large bulbous eyes from Spor in the 18 Scorpii system
synth•flesh \ sinth-flesh \ n : real skin molecules and synthetic materials combined by nano-technology, used in synthplast
synth•plast \ sinth-plast \ n : prosthetic made of a combination of real skin molecules and synthetic flesh combined by nano-technology
Tan•gent Ship•ping \ Tan-gent Ship-pēng \ n : the name of a Fauche ship building company
tap•pin \ tap-pin \ n : a small domesticated cat-like mammal with fangs and three tails, indigenous to Iota Hor-2
1teck \ tek \ n : a permanent genetic change induced through nano-technology developed by Eosians by acting at the DNA level
2teck \ tek \ vb : the act of applying a teck, usually done by a qualified nano-genetics doctor
Tocan \ tō-can \ n : a rare insect-like creature indigenous to the Upsion Andromedae system from whose larvae a natural protein fibre is spun to create the shimmering tocanai fabric used in the creation of expensive suits
Tocanai \ tō-can-aē \ n : the name give to the fabric produced from the fibre spun from the tocan larva
U•ly•sses \ eu-lis-sēz \ n : a space station built by Zeta Corp Aeronotics of Earth; a self-sufficient long term agrarian colony in the vein of an O'Neill Colony with a set of large rotating cylinders many kilometres long and thousands of meters across with large gimballed mirrors; the station maintains a circular motion of 1 rpm to create artificial gravity
Ve•nik \ Ve-nik \ n : a large reptilian-like scaled creature from the HD177830 system with indolent eyes with several sets of arms with poisonous claws and "mouths" or orifices; Veniks are known for their violent and unprincipled nature; they are one of the few species that still actively trade in slaves
vish•na \ vish-nä \ n : a species of tree with thorns and violet flowers, thought to be sentient and linked to an ancient soul, of unknown origin but currently found as the major component of Eosian and Earth forest ecosystems
vizion \ viz-ēôn \ n 1 : a small very strong and tenacious mammalian creature of unknown origin adj 2 : a term used to describe a powerful grip based on the vizion
Vos \ Vôs \ n : presumed extragalactic war-like species of which very little is known
wa•kesh root \ wä-kesh root \ n : edible root, indigenous to the planet Sekmet, with strong psychoactive properties
Weep•ing Moun•tains \ wēpēng Mountənz \ n : extremely steep and jagged mountains that define and surround the Boiling Seas of the planet Horus (47 Uma a). Microbes, created in the mountains and coat the surface of the Boiling Sea, excrete a narcotic oil (shallik oil) that numbs and hypnotizes prey
Xhix \ ziks \ n : a chameleon-like species with multiple eyes capable of wide wave-length vision and changeable skin according to mood, indigenous to the 37 Geminorum system
Zeas Corporation \ zēss cōr-pōr-ā-shän \ n : a galactic trading company specializing in exotic foods and merchandize
ZetaCorp Aeronautics \ ze-ta-cōrp ā-rō-nô-tics \ n : a major galactic ship builder originating on Earth
Phonetic symbols based on Merriam Webster's Collegiate Dictionary and the Dictionary of Pronunciation by Abraham Lass and Betty Lass.

Well this episode of the space trilogy is everything I wanted and more. Rhea founds out more about her family and her heritage. Rhea and her helpers are running out of time so save the outer verse from war. There is so much happening in this book it keeps you listening far into the night. Finally we get all the answers and even some a happy ending for some of the characters. 
The Narration was perfection Dawn is Rhea. As I always feel with audiobooks if I am in the world I'm listening too, I don't notice the narration. I wasn't pulled from this exciting story once, thank you Dawn!
I received this audiobook as part of my participation in a blog tour with Audiobookworm Promotions. The tour is being sponsored by Nina Munteanu. The gifting of this audiobook did not affect my opinion of it.

Prize: Print copies of the Trilogy set
The Splintered Universe Trilogy Giveaway: Print Copies of the Trilogy

Book One
Jan. 8th:
Jan. 9th:
Jan. 10th:
Jan. 11th:
Jan. 12th:
Jan. 13th:
Jan. 14th:
Book Two
Jan. 15th:
Jan. 16th:
Jan. 17th:
Jan. 18th:
Jan. 20th:
Jan. 21st:
Book Three
Jan. 22nd:
Jan. 23rd:
Jan. 24th:
Jan. 25th:
Jan. 26th:
Jan. 27th:
Jan. 28th: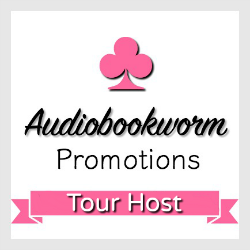 ➜Sign up as a host here