Author:

Lindsey R. Loucks
Narrator:

Kamala Alcantara
Length:

9 hours 58 minutes
Series: Haunted Stars, Book 1
Publisher

: Evershade Publishing
Released:

Nov. 20, 2018
Genre:

Paranormal Romance; Science Fiction
Nineteen-year-old Absidy Jones is a ghost magnet, a sensitive person spirits flock to when they can't cross over. After her brutal past escaping the hordes of ghosts vying for her attention, she spends her reclusive existence melting down iron into bite-sized pieces. Whether alloy or wrought, ancient paper clips or nails, consuming iron is the only thing that keeps the ghosts away.

But when Absidy's sister goes missing in deep space, a dangerous place brimming with rogue planets, ship-eating nebulas, and vicious aliens, Absidy vows to find her. She leaves her safe haven and boards the first ship she can that's on a direct route to deep space – a ship that turns out to be haunted.

To keep the malicious ghosts from killing her, the alluring bad boy pilot gifts her a small bundle of all the iron on the ship. But their growing relationship is tested with the crew's prying eyes and hidden secrets. While the ship sails into deep space, it's not just her sister's life that Absidy fears for. It's her own as well. Especially since her stash of iron has shrunk to zero.



Lindsey R. Loucks is a USA Today bestselling author of paranormal romance, science fiction, and contemporary romance. When she's not discussing books with anyone who will listen, she's dreaming up her own stories. Eventually her brain gives out, and she'll play hide and seek with her cat, put herself in a chocolate-induced coma, or watch scary movies alone in the dark to reenergize.

Kamala Alcantara is a Voice Actress & Audiobook Narrator capable of performing a wide range of voices & accents.

This is the first book in one of the most  imaginative series I've read for a while, featuring Absidy a twenty year old student waiting for her family to meet for christmas break. When she finds out that her older sister has gone missing she is determined to find even if she is in black space.
Dressed as a teenage boy called Lewis she ends up as a trainee chief on a small ship with a small crew. Nothing goes right as the ship is haunted and its Absidy sees ghosts. So the adventure starts and takes directions you in directions you can't imagine. This is a step in the future that is haunting and frightening at times. When Absidy went on board she never imagined she would have deal with Monsters around every corner. The only good thing as far Absidy knows is that Mase knows her secret, and soon they start getting hot and heavy.  I'm not giving anything else away, I don't want to spoil it for anyone.I thoroughly enjoyed listening to this audiobook, it kept glued to my headphones.
I received this audiobook as part of my participation in a blog tour with Audiobookworm Promotions. The tour is being sponsored by Lindsey R. Loucks. The gifting of this audiobook did not affect my opinion of it.

By Author Lindsey R. Loucks
Jennifer Lawrence –

Absidy Jones

Whether you love Jen or hate her, she's proven she can be the tough girl with a don't-give-a-f*ck attitude and a large dose of vulnerability. That's my main character, Absidy, in a nutshell. Let's just add some chains to Jen's hair and dress her up in a spiked corset, and she'll be repelling ghosts in no time.

Charlie Hunnam – Mason (Mase) Ryan

*swoon* Absidy's love interest is a bad-boy pilot who is thoroughly lickable. Enter Charlie. Enough said. ☺

Idris Elba – Captain Glenn

Whenever Idris opens his mouth, I listen. He has that quiet command suitable to head a haunted spaceship and could silence an unruly crew member with one (sexy) look.

Ian McShane – Randolph

Randolph, head chef, is a little bit hairy and a little bit drunk, both things Ian McShane can portray very, very well!

Theo James – Doctor Daryl

Theo is good-looking, intense, and seems like he's a bit of a loner, all qualities he shares with Doctor Daryl.

Mackenzie Crook – Nesbit

He's a genius engineer who just might be insane, and Mackenzie's exceptional, unique acting ability would be perfect for Nesbit!

Kelly Marie Tran

– M

oon Dragon

Sexy, confident, and funny, Moon has drawn Absidy out of her shell in their shared dorm at college. Moon is Absidy's only friend, a responsibility Moon takes very seriously. Kelly Marie Tran has that same lovable, sultry allure as Moon.

Prize: 1-Month Audiobooks.com Membership

Feb. 10th:
Feb. 11th:
Feb. 12th:
Feb. 13th:
Feb. 14th:
Dab of Darkness Audiobook Reviews
Feb. 15th:
Feb. 16th: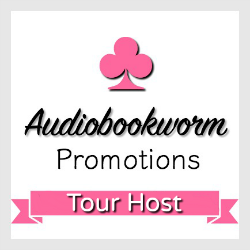 ➜Sign up as a host here